In this article, you can find and download Dream League Soccer Brazil 512×512 Kits and Logos 2019-2020 Edition with URLs.
Are you a Brazilian or you loving Brazil team? If yes, then we have a special Brazil kit for you to use in Dream League Soccer 2019 (DLS 19). The URL link for the Brazil kit of dream league soccer 2019 can be copied through the browser. This complete kit includes the home kit, away kit, goalkeeper home and away kit and finally team logo as well. You can create your own team and Brazil logo. So, take the pleasure of your lovable game and in case you have any query you can contact me.  
In the below list we are giving away all new Brazil kits 2019 which you can use in one of our favorite games called Dream League Soccer 2019. If you looking to grab them up then you can select through the following URL which is of free to use.
Dream League Soccer Brazil Kits and Logos – DLS 512X512
Brazil Kits 2019: The Brazil national football team is the most dedicated team. They have been selecting to participate in the FIFA world cup since 1923. They won FIFA world cup in 1958, 1962, 1970, 1994, and 2002. This is the biggest world record achievement in FIFA history. Every 4 years, they will be coming with new kits for their fans.
From the below list you can select them and use them as a complete kit in dream league soccer 2019. You can also find and get the original logo for Brazil kit 2019.
Brazil Kits (Home) 2019
URL👉https://i.imgur.com/cV9LJGY.png
Brazil Kits (Away) 2019
URL👉https://i.imgur.com/mgyuKpn.png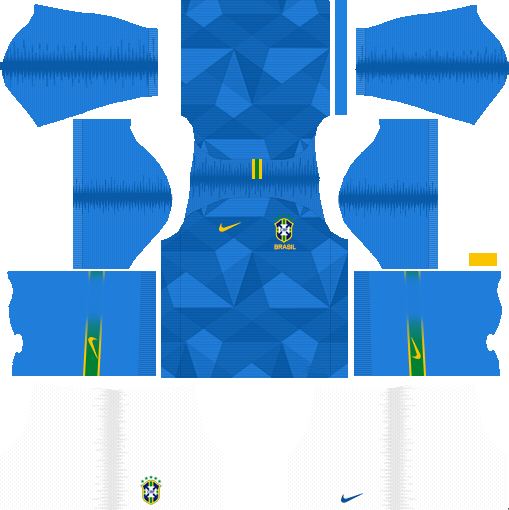 Brazil Goalkeeper(GK) Home Kit 2019
URL👉https://i.imgur.com/W3Odxp3.png

Brazil Goalkeeper(GK) Away Kit 2019
URL👉https://i.imgur.com/VDhAgjO.png
Logo Of Brazil Team 2019
URL👉http://i.imgur.com/lOYb8qA.png
Above are the logo & kits of Brazil team that can be uploaded to your Dream League Soccer(DLS 18) mobile game by following easy steps…
How to Use/Upload Kits & Logos into Your DLS 18 Game Play
This can be done by following these simple steps
To use Brazilian Kits/Logos, open your Game in Android or IOS.
GoTo My Club > Customise Team > Click on Edit Kit/Logo.
Click on option "Download" left below the corner.
Afterward, just paste the desired URL there which you copied from above.
Finally, tap on "Confirm" button on right below the corner.
Conclusion
The above-listed kits with no doubt belong to the Brazil National Team. These kits & logo can be used in your dream league soccer 2019 game. You can get them by using the above-provided URL's.
Enjoy Gaming 🎮
If you got what you are looking for then please do share and follow with your friends. Also if you need any assistance from my side I request you to leave a comment below
[box type="info" align="aligncenter" class="" width=""]Other National Brands You May Interested in Knowing
Hope you find what you were looking for. If not please tell us in what all ways we can improve our selves. Do a comment below.