In this article, you can find and download Dream League Soccer England 512×512 Kits and Logos 2019-2020 Edition with URLs.
England national football team has been creating a sensation in all football league matches and also in the FIFA world cup matches. They are using different kits to entertain their fans as well as for their comfort and stylishness.
In international football, The England national football team stands for England and by the regulating body for football in England is The Football Association managed it. England is one of the two oldest national football teams. In 1872 in the world's first international football match, they took part together with Scotland.
England's home ground is Wembley Stadium, London, UK, and the current administrator is Gareth Southgate. Although part of the United Kingdom England plays in significant professional tournaments and always had a representative side. As the IOC has always recognized United Kingdom representative sides, though it is not in the Olympic tournaments.
They are prepared for the next 2019 matches and also they have prepared their England Kits 2019 also. If you see their kits once you can't let them go from you because they would attract you and you will use them for your dream league soccer kits 2019.
Dream League Soccer (DLS) England 512×512 Kits and Logos with URLs to Download
If you want to use kits of England  National Team in the game of Dream League Soccer 2019, it's available now. Also, this is YOUR chance to build the best team to play, as we know DLS is different. Make your own stadium, hire real licensed superstars and play with Dream League Online on the World as you goal towards wonder on your road to Soccer Stardom!
The below mentioned all kits (Home & Away) are the latest and stylish kits which are going to use by the England national football team. Just go down and watch them. You will definitely like them.
England Kits (Home) 2019
URL 👉https://i.imgur.com/oQ5OIMK.png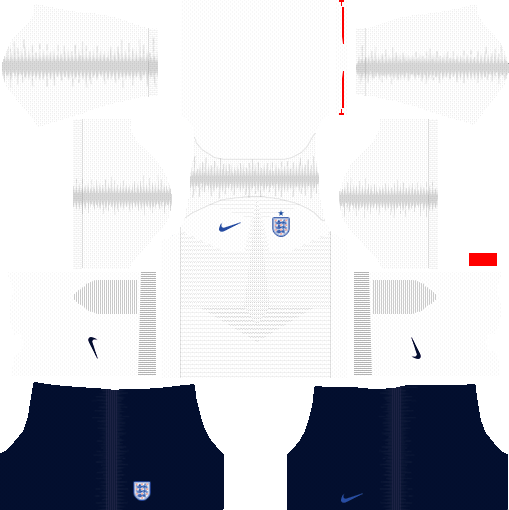 England Kits (Away) 2019
URL 👉https://i.imgur.com/KxfvHiq.png
England Kits (Goalkeeper Home) 2019
URL 👉https://i.imgur.com/qJfP34N.png
England Kits (Goalkeeper Away) 2019
URL 👉https://i.imgur.com/5jMjOVn.png
Logo Of England Team 2019
URL 👉https://i.imgur.com/ImXTEeu.png
We mentioned all the England national football team kits & team logo. Now you can get more idea about the upcoming kits for the England football team.
How to Use/Upload Kits & Logos into Your DLS 18 Game Play
This can be done by following these simple steps
To use England Kits/Logos, open your Game in Android or IOS.
GoTo My Club > Customise Team > Click on Edit Kit/Logo.
Click on option "Download" left below the corner.
Afterward, just paste the desired URL there which you copied from above.
Finally, tap on "Confirm" button on right below the corner.
Conclusion
As always I expect the England kits & logo URLs for DLS game are working perfectly fine. In case any errors please let me know through comments.
Enjoy Gaming 🎮
[box type="info" align="aligncenter" class="" width=""]Other National Kits You May Interested in Knowing